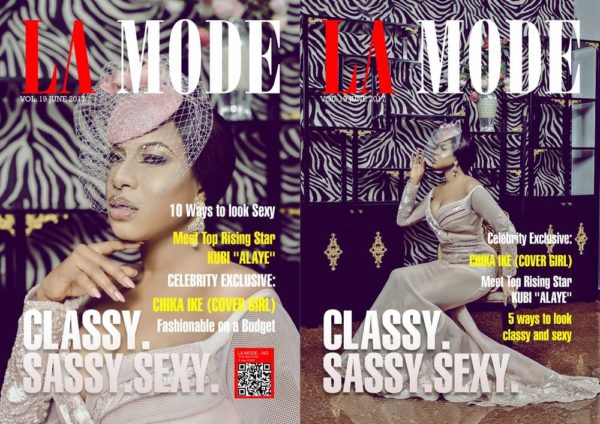 The June 2017 issue of La Mode Magazine is out and the cover star, for the edition tagged 'Classy. Sassy. Sexy', is Nollywood actress and producer Chika Ike.
When asked by La Mode Magazine, "What is the hardest part of being a celebrity?"
Chika Ike stated that "My hardest part of being a celebrity is that people tend to see you not the way you see yourself. They get to judge you before they know you ad also the fact that you lose your privacy. I am aware that I have people around that love me, and those that do not love me. So I have to be careful. Definitely things have changed; FAME has taken away my privacy and made people judge me before they even know me".
To read more pick up a copy of La Mode Magazine.
Cover Credit
Photography: @stylesquadng @studio24nigeria
Chika's Makeup by @st_lilybeth
Hair Stylist: @luxuryaddictng
Outfits designed and styed by @houseofkosagh
Facinators by @asakraft
Shoot Location: @luxuryaddictng
Graphics: @benzikmedia
Publisher: @sandraodige
culled from bellanaija